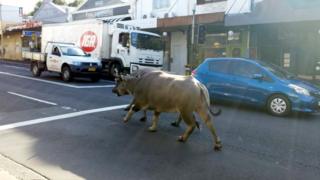 Reuters
Two huge water buffalo gave residents in Sydney a shock on Tuesday as they charged through the city.
The animals escaped from a nearby park where an advert was being filmed.
They stomped around for 2 km (1.2 miles), until firefighters were able to catch them using ladders and special equipment.
Abril Felman, a student at the University of Sydney said: "I was just waiting for the bus and instead of a bus, two random buffalo ran past."
"We were all standing back, we were all going 'That's really random'," Felman said.