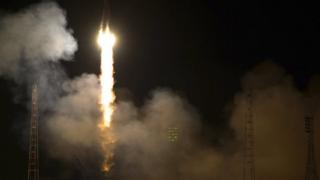 Soyuz blasts off for Space Station
The Soyuz aircraft blasted off in spectacular fashion last night from its launch pad in Kazakhstan.
The rocket lifted off at 3:17 am local time, entering orbit about 10 minutes later.
It's carrying Russian astronauts Alexander Skvortsov and Oleg Artemyev and American Steve Swanson to the International Space Station.
An engine problem has delayed their arrival, but NASA say the crew aren't in any danger.
They're expected to arrive at the Space Station on Thursday night.
The new crew will stay in orbit for six months.
Watch more Newsround videos