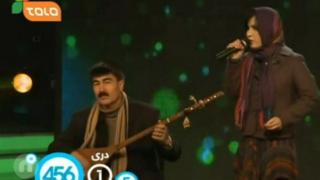 Watch: Behind the scenes at Afghan X Factor
'Afghan Star' is Afghanistan's version of the X Factor and it's popularity is seen as a sign of how things have changed in the county in recent years.
Music and television were banned under the Taliban regime, which ruled the country with strict rules before British and American troops invaded in 2001.
For a special programme Newsround's Nel has been to Kabul, the Afghan capital, to see how life has changed for kids there since troops arrived.
Here she meets one of the stars of the hit TV show, Anahita, and finds out what it's like being the only female contestant on the programme.
is on CBBC at 5.30pm on Tuesday 25 March.
Watch more Newsround videos