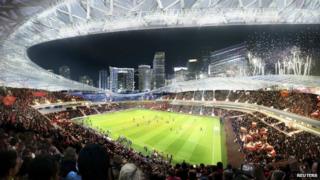 Reuters
England footie legend David Beckham has unveiled plans to build a 25,000-seat soccer stadium in Miami, America.
The announcement follows the former England captain's launch of a new Major League Soccer team in February.
The open-air stadium will be built on Miami's waterfront in an area known as PortMiami, which hosts the world's busiest cruise ship terminal.
He's excited about it but says there are still a lot of decisions that need to be made.
It's understood the team could start playing in 2016.