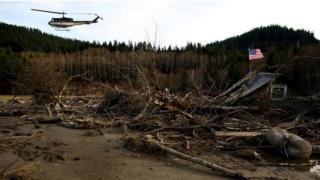 Obama declares US mudslide emergency
Rescue efforts are continuing in the US after a huge mudslide hit the state of Washington over the weekend.
Fourteen people were killed and officials say more than a hundred are still missing in the town of Oso.
US President Barack Obama has declared an emergency and said different groups will be working together to try and help.
Search crews have worked day and night, using helicopters and laser imaging.
It is believed the slide was triggered by heavy rain and more than 100 homes have been destroyed.
Watch more Newsround videos