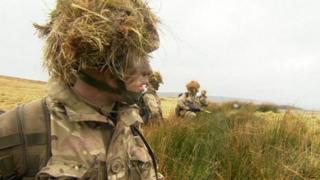 Life in a military family
This year marks 100 years since the beginning of World War One.
Around 10 million men were killed in battle in the Great War between 1914-1918.
The conflict was so destructive that people at the time thought it was the war that would end all wars.
Now, a hundred years later, there are still people fighting in wars around the world, including British troops in Afghanistan.
Ahead of Frontline Families, the latest Newsround Special, we've been to meet some families for whom serving in the forces is a long tradition.
We've been to meet brothers Bry and Baz who come from a family of soldiers.
Watch Frontline Families today at 5.30pm on CBBC.
Watch more Newsround videos