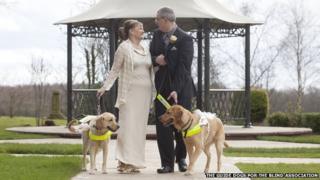 The Guide Dogs for the Blind Association
A couple who got together after their guide dogs "fell in love" at a training camp have got married.
Claire Johnson and Mark Gaffey, met in 2012 after Labrador-Retrievers Venice and Rodd became "inseparable".
The doggy romance started when the pups met at a two-week guide dog training course.
Claire said Venice and Rodd had been the "class love story" throughout their training and were always "playing and nuzzling together".
The pooches guided their owners through the wedding service on Saturday and even carried the rings.
Claire said she had "no doubt" the dogs had brought the couple together.
"Everyone used to joke about how Mark's dog Rodd and my dog Venice were meant to be together," she said.