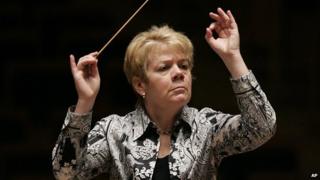 AP
A girls only course for aspiring orchestra conductors has been started by a college in London, in response to complaints that there are too few women in the industry.
Last year Marin Alsop became the first woman ever to conduct the famous Last Night of the Proms event in its 118-year history. Now Morley College say they want to give more girls the opportunity to follow in her footsteps.
So we want you to tell us whether there are any jobs you'd like to see more women or more men doing?
Maybe you think there aren't enough male nurses or female builders. Or perhaps you know girls or boys who want to break into jobs that are traditionally done by the opposite sex.
This chat page is now closed. Thank you for your comments.
Your comments
I'd like to see more male nurses and dentists and more female doctors.
Alice, Basingstoke, England
I think there should be more girl P.E teachers.
Sofiya, Bury, England
There need to be more women architects.
Chantelle, Sheffield, England
More male primary school teachers, I went through all of Primary school without one male teacher.
Daniel, Sheffield, England
I don't think there are enough girls in lifeguard positions. Myself and many of my friends are already life savers and doing lots of work with this, which is really encouraging.
Charlotte, Darwin, Australia
I think more men should be working as nurses or in care homes.
Alex, Sheffield, England
There should be more girls designing cars.
Tori, Sheffield, England
There should be more women working in the building industry.
Ellie, Sheffield, England
I think more girls should be gardeners and more boys should be musicians.
Olivia, Northern Ireland
Girls and boys should have more jobs like being an adventurer or maybe a sport instructor. When I grow up I'm going to be an adventurer.
Mariam, Leicester, England