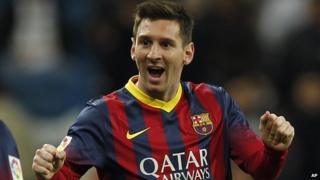 AP
Lionel Messi scored a hat-trick to become the all-time top scorer in El Clasico games, as Barcelona beat Real Madrid 4-3.
The Argentine player has now scored 21 El Clasico goals, moving him ahead of Madrid legend Alfredo Di Stefano.
El Classico is the name given to the famous match between Spain's two biggest clubs, Barcelona and Real Madrid.
The victory took Barca within a point of Madrid at the top of La Liga.
It was Messi's second hat-trick in a row, making him the second highest scorer in La Liga history as well.
He's moved ahead of former Real Madrid striker Hugo Sanchez onto 236 goals.