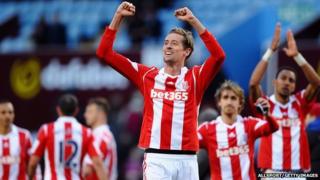 ALLSPORT/Getty Images
It was goals galore in the Premier League this weekend.
A staggering 42 goals were scored in total, one short of the record set in 2011 for most goals scored over a weekend.
Tottenham Hotspur came back from two goals down to beat Southampton 3-2.
Christian Eriksen scored twice from close range to level, before substitute Sigurdsson struck with a dramatic long-distance winner.
Stoke also came from behind to beat Aston Villa 4-1 - claiming their first Premier League away win since August.
Smashing Saturday
On Saturday Chelsea beat Arsenal 6-0, Liverpool beat Cardiff 6-3 and Manchester City thrashed Fulham 5-0.
Manchester United beat West Ham by two goals, as did Hull in their match against West Brom.