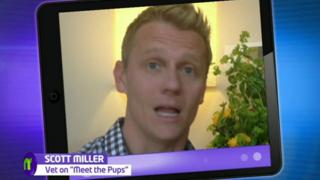 Top tips from 'Meet the Pups' vet
CBBC has a new series called Meet the Pups - and it is cute galore!
The programme follows the lives of Bonzo, Biscuit and Betsy.
They are newborn Springer Spaniel pups, and the show follows them through the first eight weeks of their life!
Dr Scott Miller, the vet on Meet the Pups, offers expert advice on looking after a puppy.
Whether you already have a dog or are thinking of getting one, check out our clip.
Watch more Newsround videos