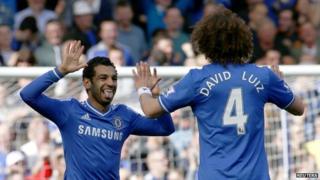 Reuters
It was supposed to be a celebration for Arsenal manager Arsene Wenger as it was his 1000th match with the team - but a 6-nil thrashing must have spoilt the party mood.
His 10-man team were crushed by Chelsea, with two of the goals, by Samuel Eto'o and Andre Schurrle scored in just seven minutes.
Eden Hazard's penalty after a Alex Oxlade-Chamberlain handball all but finished the match as a contest.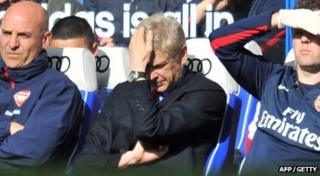 AFP/Getty
Oscar scored twice before Mohamed Salah inflicted more pain on the Gunners.
It was Jose Mourinho's biggest Premier League victory as Chelsea manager and also the first time in Chelsea's history that they have scored six times against their London rivals.