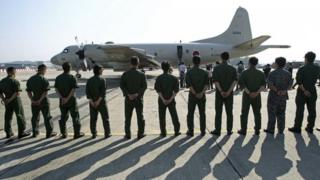 AP
The search for the missing Malaysia Airlines flight MH370 has been stepped up as more planes have been sent out to check the Indian Ocean.
Australia is leading the search from its naval base in Perth in Western Australia, and China and Japan have sent aircraft to join the hunt too.
The search area has widened again since reports that more possible debris had been spotted on satellite images.
Malaysia Airlines flight MH370 disappeared on 8 March.
It left Kuala Lumpur in Malaysia and was supposed to land in Beijing in China, but officials now say they think it was flown in the wrong direction on purpose.
There were 239 people on board.
Guide: What to do if you're upset by the news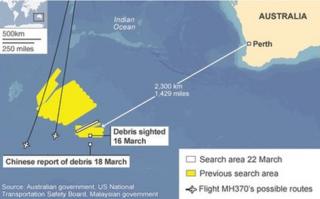 For the past few days, the search has been concentrated in the South Indian Ocean after a satellite showed what could be possible debris in the ocean there.
Now China have released a second picture of what could be more debris in the ocean, picked up by a satellite.
It's been more than two weeks since the plane disappeared but it's still not clear what happened and why contact was lost.
It's extremely rare for something like this to happen and that's why investigators are struggling to understand what exactly happened.