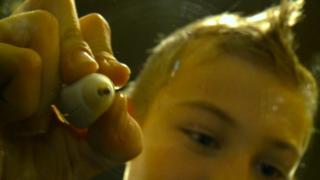 Dad invents pen that spots mistakes
A dad has invented a pen for his son which vibrates when the person using it makes a mistake.
The Lernstift or "learning pen", doesn't need ink or special paper to work and uses a special mechanism to work out what is being written.
It's connected to a mobile phone app that flashes to let the user know they've gone wrong.
Falk Wolsky was inspired by his son Leon when he was first learning to write.
Find out more in BBC Click's Dan Simmons' report.
Watch more Newsround videos