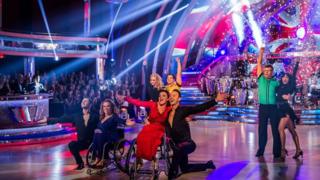 Sport Relief 2014 was a record-breaker after more than £51 million was raised on the night.
Thousands of people have got involved with the event; taking on sporting challenges to raise money for charity.
From Davina McCall's massive triathlon to Alex Jones' monster mountain climb - the challenges were gruelling.
Then to top all that, there was a six-hour telethon that saw the likes of David Beckham, David Walliams, Little Mix, Lord Coe, Hannah Cockroft and many, many more all do their bit to raise money.
What was your favourite moment in this year's Sport Relief? Get in touch using the form below.
Your comments
Mine was when David Beckham fell over.
Ben, England
I really liked Strictly and they were better dancers than me and I loved when Little Mix performed Word Up, when the sad bits came I was crying my eyes out.
Khadija, Bedford
My favourite bit was the synchronized swimming, it was so funny! All of it was really good.
Bea, Gloucestershire
I loved Davina McCall's triathlon. It must have been exhausting!
Will, Southwater
My favourite moment was either Only Fools and Horses returns or when John Bishop pulled Olly Murs' shorts down!
Eleanor, Wakefield
I loved it when I watched Davina McCall beyond breaking point. My mum and I cried when she was in the river and at her determination. Well Done Davina!
Georgina, Newcastle
I liked the part when Kylie Minogue and David Walliams sang together, the synchronised swimming when the boys were in swimming costumes and the Only Fools and Horses special.
Rebecca, Norwich
My favourite part on Sport Relief was Strictly Come Dancing and when Kylie Minogue sang on stage.
Harriet, Northampton
This chat page is now closed. Thank-you for all your comments.