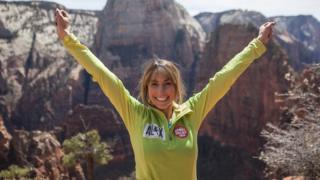 Trevor Christensen/Comic Relief
It's Sport Relief, and over the next couple of days you'll get to see some of the amazing challenges celebs have been taking on, to raise money for good causes.
The likes of Alan Shearer, Davina McCall and Alex Jones have been pushing themselves to the limit for charity.
But what are you guys doing?
It doesn't have to be as extreme as sitting on all the seats in Wembley - but if you are raising money for Sport Relief we want to know about it!
This chat page is now closed. Thank you for your comments.
Your comments
Our class of 19 pupils has raised £1074.28 so far! We are running around our country village this afternoon. We are extremely excited about how much we have raised and the difference we will make. Our teacher set us a target of £200 however, we have raised over 5 times this amount.
Lybster Primary School p6/7, Lybster, Caithness, Scotland
At our school we set ourselves the challenge of swimming a marathon to raise lots of money for Sport Relief. However, after 2 hours and 45 minutes and lots of effort from 224 children and many crazy teachers we managed to swim not only one marathon...but 3 marathons (and 4 lengths!) We worked out that we swam an incredible 78 miles which would take us from our school in Swindon to Kew Gardens in London, wow! Now we are hoping to that we can collect lots of sponsor money to donate to the Sport Relief charity.
Class 8, Highworth, Swindon, England
For Sport Relief I'm going to have a moment of silence when I get home from school because I want to think about all those children in different countries who are less fortunate than us.
Jessica, London, England
All of the year classes played in a special football tournament yesterday. Every year group did something different. There was cheerleading, American Football, Archery and Hockey. It was great fun!
Year 4 Noel Park Primary School, London, England
Our school is holding a talent show, and I've organised a mile run.
Emma, Norfolk, England
At school, we are dressing up in pyjamas, onsies or sports clothes and our class are running a mile blindfolded!!
Nina, Solihull, England
On Wednesday my school had a whole day of sports including the Sport Relief mile, but some people did about 4 miles. I did half a mile 5 legged and half a mile 3 legged. And a quarter of a mile piggy backing my friend. In total I did 2 miles!
Catherine, Harpenden, England
For my sport relief challenge I am doing a sponsored wheel challenge, where we have to either cycle, scooter or roller skate around our KS1 playground.
Mia, London, England
I am taking part in an 'Olympic' triathlon with my friends to raise money! Also me and two of my friends made cakes and sold them in shops and raised £61.22
Lizzie, Lewes, England
I am going to try to stay in the splits for half a hour.
Erin, Hamilton, Scotland
I'm doing a sponsored bounce when we have to bounce on a bouncy castle and I'm looking forward to it!
Natasha, Bishop Stortford, England
I'm going to try and stay quiet for the whole day without saying a word. Also I'm going to try and encourage people to donate to charities for poor and ill people, so the world can change that.
Tegan, Ashington, England
For Sport Relief our school is raising money by baking cakes and having a 'wear sporty clothes' day! The donations from the non-uniform will go to sport relief.
Alys, United Kingdom
We raised £306 pounds for Sport Relief. We wore our sports clothes to school and had crazy hair. We also did a wild and wacky obstacle course.
Eilidh, Balfron, Scotland
My school are walking a mile and my year, which is year 3, are wearing silly hats to do it.
Sophie, England
We are taking part in a school Sports Relief Challenge and here are the sports we are taking part in today: Tennis, Basketball, Bowling, Gymnastics, Trim Trail, Hula Hoop, Skipping, Football, Cricket, Javelin, Running, Hockey, Tag Rugby and Rock-it ball!!
Year 4, Little Harrowden School, Northamptonshire
Today our school is keeping the baton going for Sport Relief. All our classes are taking turns to keep the baton moving around our school field for the whole school day. We started at 8.30!
Marlborough Road Academy, Salford, England
Today our school will be running to John-O-Groats. We measured the distance in our school grounds and decided each class would run for 15 minutes. In the end we hope we will have covered the distance. We are all dressed as our favourite sporting heroes and donating £1 each. There are sponsorships going on too.
Duloch Primary School P7a, Dunfermline, Fife, Scotland
I am running or walking a mile on my school field with my friends and teachers to raise money for Sport Relief.
Joshua, Liverpool, England
Today at school for Sport Relief we have to dress in tracksuits or sporty clothes and do sports activities it will be fantastic.
Maliah, Northampton, England
Me and my friend are going to be washing cars to raise money for Sport Relief.
Morgan, Lincoln, England
For sports relief I did a 24 hour silence, it was really hard but worth it! I have 8 brothers and sisters and they helped me raise over £50! It goes to a good cause.
Nancy, Milton Keynes, England
I am doing a basketball competition with my form, and we've been doing it since Wednesday. I have donated £3.
Joel, Barnby in the Willows, England
We are doing a dance-athon at school!
Alex, Derbyshire, England
Me and my friends are dying our hair red and we are walking 3 miles!
Chloe, Cambridge, England
Me and my friend are going to swim 1.5 kilometres in the Olympic pool for Sport Relief. So far we have raised £112.
Macey, Burton, England
Our school are running a total of 500 miles and bringing a pound each to school so we can come dressed in sports gear. Even the teachers are joining in!
Emily, Bingley, England
Our school are running a mile dressed up in sport clothes I'm going in my horse riding clothes and me and my sisters have raised thirty pounds.
Charlotte, Milton Keynes, England
This Saturday I will be running from the top of Putney heath to the windmill at Wimbledon common and back! That's 3 miles, and the Wombles will be there!
Mariela, London, England
My school are doing a massive conga line!
Nathaniel, Leeds, England
Me and my friends from our ski club are doing a slalom ski for 3 hours non-stop in our onsies!
Jessica, Winchester, England
At school, we are dressing up as our sporting hero/heroine and I'm dressing up as Jessica Ennis.
Neve, Birmingham, England
I am running a mile to school, running a mile round the school at lunchtime and then running a mile home. I have raised £76!
Charlie, Cheltenham, England
The whole school is dressing up as their favourite animals and doing a sponsored aerobic session at the end of the day.
Alice, London, England
In our school we are dressing up as fancy dress and walking a mile. We are also doing some other sports, like tag rugby, dodge-ball and much more! I'm going as a zebra!
Lydia, Lincolnshire, England
We are doing a seven a side football competition and cross country runs and a non school uniform day.
Luke, Newcastle, England
In my school today we are running a mile for Sport Relief.
Sofia, London, England
I cycled to Sheffield! My legs killed the next day, but most of my class sponsored me, and my family of course!
Jenni, Doncaster, England
I decided that I could go running with my best friend round the school fields. At the moment we have raised over twenty pounds for sports relief and more money is on its way!
Fleur, London
I'm running a mile.
Lilia, St Albans
On Saturday I am swimming 200 lengths which is 5 k or 3 miles just for Sport Relief, and I'm trying to get sponsors!
Connor, Essex
For Sport Relief this year I am going to run round my school as many times as I can in 20 mins. I will be joined by my friends.
Laurie, London
Me and my friends are doing a triathlon type event, dying our hair red and we have done a bake sale. We have already made £200 for Sport Relief and Cancer Research.
Abbie, Cardiff
I am doing a 5k run with my school.
Poppy, Basingstoke
I have made some cakes for my school's Sport Relief day. We are also doing a fun run and get to come in as a famous sportsman.
Ruairi, London