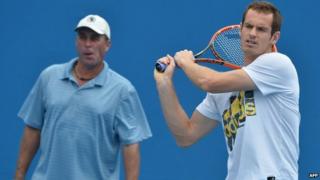 AFP
Tennis ace Andy Murray is to split from his coach Ivan Lendl.
Their two year partnership brought Andy his first big titles - Olympic gold, the US Open and the Wimbledon title last summer - ending Britain's 77 year wait for a male champion.
"I'm eternally grateful to Ivan for all his hard work," said Andy. "We've learned a lot as a team and it will be of benefit in the future."
Lendl said it was "fantastic" working with Andy, who is "a first-class guy".
Andy will be defending his Miami Masters title next week.