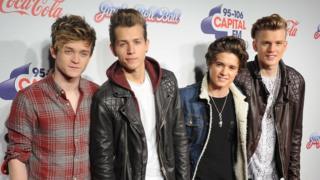 Getty Images
With a number 2 single under their belts and a new album on the way - The Vamps are one of the most best upcoming bands in the UK.
And we know you guys love them - so that's why Newsround are off to meet them.
We'll be talking to Bradley, James, Connor and Tristan, and what we ask them is up to you.
Maybe you'd like to know who inspired them? Their dreams for the future? Or how they get their hair so big?
Your Questions
If you had a super power what would it be and why?
Jessica, London
Which country would you most like to visit and which famous landmark would you see in that country?
Kareena , London
Where do you see yourselves in 5 years?
Hannah, Kent
Do you hope to get as famous as 1D maybe one day
Ella-May, Essex
What's next for the vamps?
Shekinah, London
Who inspired all of you to become a band?
Destiny, Gibraltar
Did you always want to be a band?
Sue, Sutton
What was it like to support the wanted on tour?
Sarah, Manchester