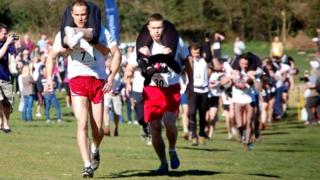 Watch: UK Wife Carrying Race 2014
The UK Wife Carrying Championships have a winner!
Richard Blake-Smith and his partner Anna beat Vytautas Kirkliauskas of Lithuania, carrying his wife, Neringa Kirliauskiene.
Rich said: "We put in a whole week's work, running around the athletics track near where we live - and it's paid off"
"We were pushed hard, especially by the Lithuanians there."
Competitors must tackle a 380-metre course, hurdling over haystacks, scrabbling up a steep slope, and dodging water pistols.
You don't need to be married to take part.
The race saw all combinations of competitors - men carrying women, men carrying men and one woman carrying a woman.
Rich and Anna will now compete at the World Championships in Finland in July.