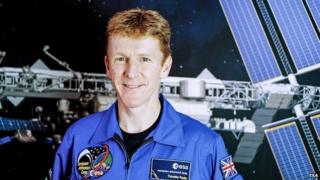 ESA
The UK's first official astronaut, Major Tim Peake, will be going into space next year and his mission is looking for a name.
Tim will spend six months on board the International Space Station carrying out scientific experiments.
The European Space Agency (ESA) is now asking people to choose a name for his mission.
It's normal for the public to help choose names every time a European astronaut goes into orbit.
Rosita Suenson from the ESA says its a way of getting the public to feel part of Tim's mission.
A team will whittle the list of entries down, taking out anything that might be hard for people to pronounce, and then the short-list will be given to Tim who'll make the final choice.