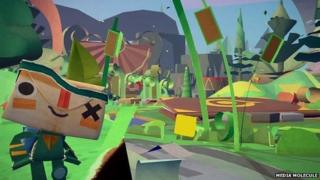 Media Molecule
Tearaway for the Playstation Vita won best family game while Fifa 14 won the sports category at the Bafta games awards.
The Bafta video game awards are the gaming world's version of the film awards, so for games makers they are a big deal.
Stephen Moffatt, writer of Doctor Who and Sherlock Holmes, presented one of the awards, he said: "It's extraordinarily rare to be around when a new art-form is being born... [Video games] are going to own the future. I am here chiefly to crawl to my new bosses."
Tearaway by Media Molecule won both the Family category and the Mobile and handheld categories.
Fifa 14 the football league game by EA games won the Sport category.
Games makers Rockstar Games won the Bafta Fellowship - a special award for their contribution to the industry.