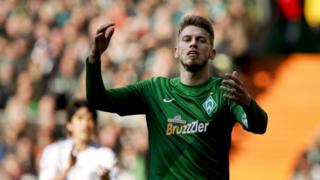 Getty Images
A German footballer has been praised for admitting to diving in a match, and talking the referee out of awarding his team a penalty. Would you be so honest?
Aaron Hunt, captain of top German team Werder Bremen, fell over in the penalty area when his team were 2-0 up against rivals Nuremberg.
The referee awarded a penalty, but as Hunt stood up he told the ref it was not a foul and his team should not have a spot kick.
But would you be so honest?
The referee cancelled the penalty and the game carried on at 2-0. In the end Hunt's team still won.
"Out of instinct, I wanted to provoke the penalty, but that was wrong" the midfielder said afterwards.
Your comments
I am always honest. In hockey, if the ball touches my foot I always say. Even though my team mates don't like it. It is best to be honest.
Ellen, Wellesbourne, England
I think what he did was good, he was honest and he admitted his mistakes. I always admit to myself and others if my horse knocks a rail, there's no point in lying to make yourself look better - put the time into it and it'll all pay off.
Niamh, Cambridge, England
I would not have given away the chance to make it 3-0!
Anonymous, Peterborough, England
When I am playing soccer at school, sometimes the ball slightly touches my hand, I always tell the truth but my classmates always scold me when I tell the truth.
Sohaib, Doha, Qatar
Year 5 think that you should always admit the truth, and Aaron Hunt definitely did the right thing. We think that he shouldn't have dived in the first place because he could have hurt himself but we understand that it was his instinct and he just wanted to help his team.
Year 5, Holden Clough Primary School, Ashton-Under-Lyne, England
It was the right thing to do and if I was a footballer, I would have done the same.
Dylan, Bideford, England
I am always honest in sport, because I always want to tell the truth.
Jessica, London, England
I think he was quite brave to stand up against all his supporters.
Adam, Bristol, England
I think Aaron did the right thing he was very honest, people should look up to him and everyone should be as honest as him.
Oliver, Ilse of Sheppey, England
I feel that Aaron Hunt did the right thing, but his team were 2-0 up, if they weren't he might not have been so honest.
Oliver, Cambridgeshire, England