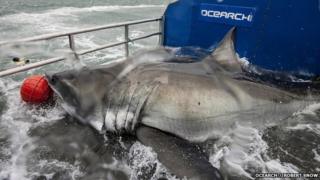 OCEARCH / ROBERT SNOW
Scientists studying Lydia, the first great white shark to be seen crossing from one side of the Atlantic to the other, believe she may be pregnant.
Lydia was tagged off the Florida coast last year, allowing scientists to follow her movements via satellite.
At the weekend she crossed the boundary between the east and west Atlantic ocean.
Chris Fischer is studying the shark. He told the BBC Lydia is heading to the Mediterranean sea to give birth.
Since she was tagged in March 2013 the great white has travelled more than 30,500 kilometres or 19,000 miles.