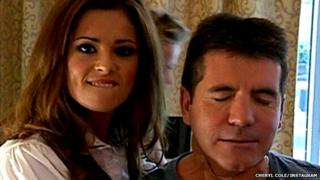 Cheryl Cole/Instagram
Cheryl Cole has confirmed her return to the X Factor as a judge alongside Simon Cowell, for the show's 12th series.
Cheryl broke the news with an online photo, saying: "Guess what? I'm back."
Simon and Cheryl fell out back in 2011 when she was dropped from the American version of the show.
But last year's UK series got some of the lowest viewing figures in the show's history, so ITV will be hoping Cheryl can get more people watching.
"It's official. Cheryl is back," Simon Cowell tweeted. "Be careful what you wish for!"
Does Cheryl's return make you want to watch X Factor? Will you be more likely to tune in? Or are you bored of the show?
It's just a ploy to get more viewers. They probably still don't like each other really.
Alexandra, Wakefield, England
I'm so happy Cheryl is coming back! I'm her number one fan and I have been waiting years for her return. She is the best X Factor judge there has ever been and will ever be.
Isobel, London, England
The X Factor got boring after Simon and Cheryl left and I haven't watched the show since Little Mix won. Now I'll be watching it again!
Jon, London, England
Been there, done that. No I won't watch. They should've brought in someone totally new.
Mags, Ireland
Definitely! Cheryl Cole is going to bring viewers back to ITV because she is so funny on The X Factor. I'm surprised they didn't bring her back earlier!
Abbaas, Lancashire, England
No. Simon is horrible but Cheryl is ok and she is quite nice sometimes.
Bethany, Whitstable, England
I would watch no matter who the judges are but I still love Cheryl Cole!
Florri, Gloucester, England
I am happy that Cheryl is back because she is kind to the performers but Simon is quite nasty so I'm not really happy.
Monya, Kent, England
I won't be watching for Cheryl Cole, it's Ant and Dec I love.
Alice, Worcestershire, England
I loved Cheryl as a judge but I also loved Simon as a judge so I really want them back.
Megan, Newcastle, England
I never watch the X Factor as I think it's boring so I won't be watching this year even though Cheryl Cole and Simon Cowell are back.
Joe, Dorset, England
I don't think that Cheryl should come back it was good with the old judges.
Katie, Stockport, England