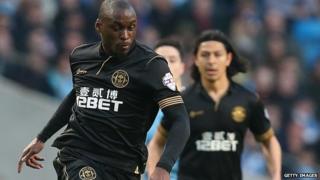 Getty Images
The FA Cup holders Wigan are heading back to Wembley for the semi-finals after a thrilling match against Manchester City.
They won 2-1 away and will next play Arsenal to try and grab a place in the finals.
But winning isn't on the top of club chairman Dave Whelan's mind.
He told the BBC he would choose promotion to the Premier League above his club retaining the FA Cup.