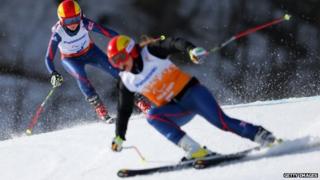 Getty Images
Kelly Gallagher has won the first ever Winter Paralympic gold medal for Great Britain.
The visually-impaired skier and her guide, Charlotte Evans, were the first out on the super-G course with a time of one minute 28.72 seconds.
Kelly, from Northern Ireland, then had to wait as the rest of her rivals tried and failed to beat her time.
It was a good competition for GB - Brit Jade Etherington, with her guide Caroline Powell, also took the bronze.
That's Jade and Caroline's second medal of the Games.