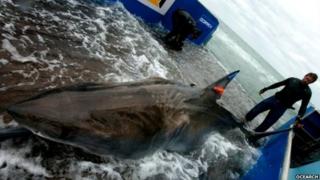 Great white shark could make history
A great white shark called Lydia could be about to make history as the first of its species to be seen crossing from one side of the Atlantic to the other.
No white sharks have ever been monitored crossing from east to west or west to east.
A satellite tracking device was attached to Lydia before she left the Florida coast in March 2013.
Lydia has travelled more than 30,500 kilometres (19,000 miles) since then.
She is now roughly 1,600 km from the British Isles but it is unlikely to will swim into British waters.
Dr Gregory Skomal, a fish biologist who is monitoring the shark's path says:
"We have no idea how far she will go, but Europe, the Med, and the coast of Africa are all feasible."
Watch more Newsround videos