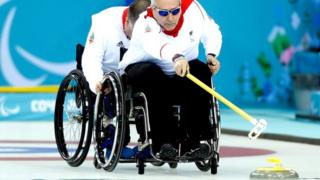 Getty Images
Great Britain have beaten Sweden 6-4 in the latest round of wheelchair curling at the Sochi Winter Paralympics.
The team led 5-4 going into the eighth and final set of throws, thanks to a brilliant performance in the seventh set by skip Aileen Neilson.
They will face South Korea in the next round later on Sunday.
The win is a boost to the team's confidence after losing to Canada on Saturday.