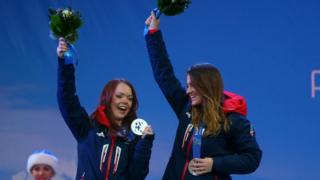 Getty Images
Great Britain's Jade Etherington and her guide Caroline Powell have been presented with their silver medals for the Women's Downhill.
The day of the ceremony at Sochi is also Jade's 23rd birthday.
On Saturday she became the first woman to win a Winter Paralympic skiing medal on the snow.
The silver medal winner finished 2.73 seconds behind Slovakia's Henrieta Farkasova and her guide Natalia Subrtova.