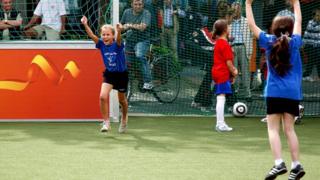 Getty Images
Chelsea striker Samuel Eto made the headlines yesterday with his goal celebration against Tottenham.
Eto made a joke of Chelsea manager Jose Mourinho's comments about the player's age by pretending he needed a walking stick after scoring.
Chelsea went on to win the match 4-0, and news of his celebration spread throughout social media, being described as a highlight of the game.
Your sporting celebrations
I play netball and when I score I normally high-five my teammates.
Libby, Bath, England
I punch my fists in the air but I don't make to big a deal. Lots of the boys in my class run around the pitch!
Sarah, Caerphilly, Wales
When someone on our team scores everyone runs over to them and jumps on them. Then the person who scored runs around doing their own celebration.
Ines, County Westmeath, Ireland
I always celebrate by smiling to the crowd and putting my arms up in the air.
Bethany, Barra, Scotland
In football you can run the length of the pitch and celebrate with the goalkeeper.
Shaheem, London, England
I jump with joy, hug and high-five my team mates and I do the same when they score too.
Fatima, Leicester, England
I run around like a maniac after I score! I also punch the air.
Maryam, Ilford, England
I get my team to line up like pins are ordered in bowling. I throw the ball and they all fall down. This does take practice.
Zayd, Hackney, London
I cheer and high-five my team.
Emma, Dublin, Ireland
I celebrate my goal with a cartwheel and my team mates pretend to clean my shoes.
Awais, Cheshire, Manchester
This chat page is now closed.