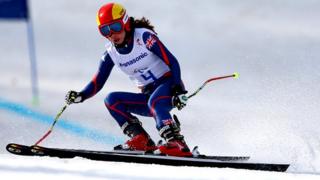 ALLSPORT
Jade Etherington has become the first British woman ever to win a Paralympic skiing medal, taking silver in the visually impaired downhill.
The 22-year-old from Lincoln and her guide Caroline Powell did it in one minute 34.28 seconds on the first day of the Winter Paralympics.
They finished 2.73 seconds behind Slovakia's Henrieta Farkasova and guide Natalia Subrtova.
Jade said, "I am delighted with the medal, I don't think it's sunk in yet."
There was drama at the end of the race when Jade crashed into the barriers after crossing the line, but luckily she was unhurt got back onto her feet.
Britain's other competitor, Kelly Gallagher, finished sixth.