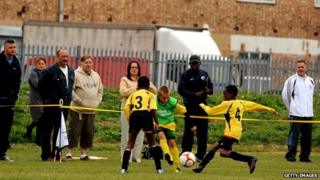 Getty Images
Adults at children's football matches in Lancashire this weekend are being asked to keep quiet to avoid putting kids off their game.
The aim of Lancashire Football Association's Silent Weekend is to change adult attitudes at youth football games.
FA officer Neil Yates said "Children are intimidated by shouting adults."
"We want parents and coaches to be good role models."
Your comments
I think parents should be banned if they yell out too many negative comments but positive ones are ok.
Poppy, Stockport, England
I think it can be very encouraging sometimes as long as it's something nice. But they shouldn't shout because if you're playing very well and you don't hear them you may turn around to hear and get tackled.
Mahlee, High Wycombe, England
I play softball and the parents help us with chants. I say we should keep them.
Alice, Salisbury, USA
When I play rugby my Grandad shouts at me and it puts me off.
Eve, Swansea, Wales
I think there should be a ban on shouting parents as it put off kids playing a sport.
Amran, Leicester, England
I go to dancing and my teacher always shouts about things we need to do better. I find it a bit off-putting so I think Silent Weekend is a brilliant idea.
Caitlin, England
I do judo and when I do competitions my mum and dad keep on shouting things to me. It is really distracting.
Joel, Lincoln, England
I do karate. I go to lots of different places for competitions, my dad shouts for me and cheers me on. It doesn't put me off.
Coral, Edinburgh, Scotland
It puts pressure on you when they talk to your coach. But they're only trying to do what is best for you.
Elana, Reading, England
I think its great when adults shout. It's great encouragement. You have to learn from what you've done wrong and carry on.
Rana, Middlesex, England
My parents and others cheer my basketball team on at all our matches. It never seems to put me, or my team, off.
Melanie, Birmingham, England
I think parents should be quiet if they have nothing nice to say, but if it's encouraging then they can chant.
Emily, Driffield, England
I play netball and when we play matches my parents cheer my team on and encourage us, even if the ball isn't going into the net or if our defending is weak.
Amy, Hertfordshire, England
My Dad usually shouts during my rugby matches. Sometimes it's really encouraging but sometimes it's off-putting and annoying.
Charlie, Chester, England
When my parents shout whilst I'm playing a sport it helps me because it encourages me to do my best.
Emily, Bognor Regis, England
I play lacrosse and at every break my dad comes up to me and says things like "You heard what the ref said", it really puts me off.
Sarah, Manchester, England
Thank you for your comments this chat page is now closed.