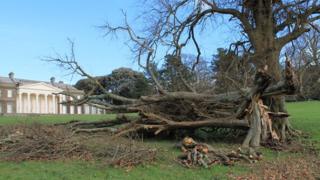 National Trust
Extreme winds this winter caused the greatest loss of trees in 20 years, according to National Trust.
The organisation, who look after 25,000 trees across England, Wales and Northern Ireland, have carried out a survey of more than 50 of the areas they're in charge of.
They say in some cases the damage was worse than that caused by the Great Storm of 1987, when hurricane force winds unexpectedly hit parts of the UK.
Several rare trees were also destroyed.
Rare trees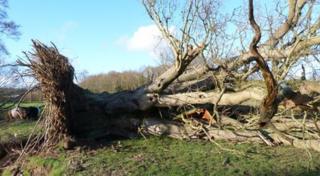 National Trust
Matthew Oates, from the Trust, said: "In 1987 and 1990 it was really the volume that was lost that was worrying, this time it is the quality of the trees.
"We've lost a lot of significant, old sentinel trees, ancient beech, oak and ash trees."
Worst hit
Western and southern parts of England and Wales were worst hit by the stormy weather.
Some historic trees in those areas were damaged, including a rare black walnut at Hatfield Forest, which was the largest in Essex.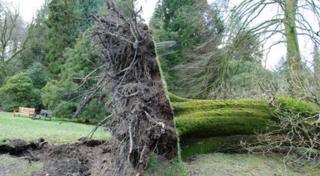 National Trust
The Killerton Estate in Devon also had more than 500 trees blown over by the storms