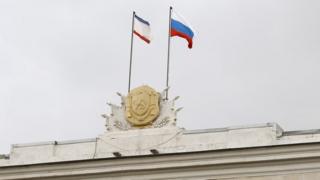 Reuters
MPs in Crimea, the southern region of Ukraine, have voted in favour of becoming part of Russia.
People who live in the area will now get to have their say in a vote on 16 March, the Crimean Parliament has said.
It's the latest in an ongoing tug of war between Ukraine and Russia over who should be in charge there.
After the vote a Ukrainian government minister, in Kiev, said it was against Ukrainian law for Crimea to join Russia.
Tension
Many of the people who live in Crimea think of themselves as being Russian, rather than Ukrainian and the area's become the centre of tensions since a new Ukrainian government was brought in.
Guide: What's happening in Ukraine?
Sergei Shuvainikov, a lawmaker in Crimea said: "This is our response to the disorder and lawlessness in Kiev, we will decide our future ourselves."
Meanwhile, leaders from across the European Union are holding an emergency meeting in Brussels over the crisis in Ukraine.