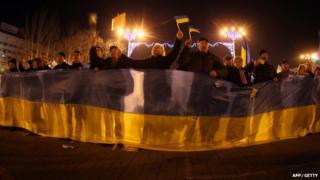 AFP/Getty
Leaders from across the European Union are holding an emergency meeting in Brussels over the crisis in Ukraine.
Some members, particularly from Eastern Europe, are pressing for tough measures.
Other countries - led by Germany - want to try and come to an agreement with Russia.
The meeting in Brussels comes a day after high-level talks between some western leaders and Russian foreign ministers in Paris.
The talks made little progress, and now EU leaders seem to disagree on how to tackle the situation.
But Britain's Foreign Secretary, William Hague, said efforts to break the deadlock would continue.
Pro-Russian groups are still out in force in Crimea, in the south of Ukraine.
Guide: What's happening in Ukraine?