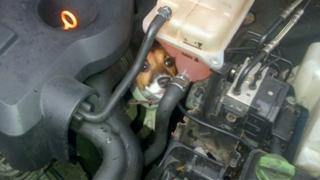 Dog's 12-mile trip in car engine
A curious dog has had a lucky escape after surviving a 12-mile journey stuck in a car engine in Greater Manchester.
Betty Boop crawled inside her neighbour's car bonnet without anyone realising.
The Jack Russell was then taken on a drive with speeds of up to 50 miles per hour.
It was only when the neighbour came home that he heard barking - and found Betty Boop in his engine!
Thankfully the pooch was unhurt by her adventure.
Watch more Newsround videos