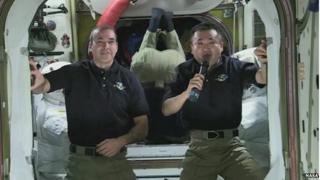 Astronauts congratulate Gravity film
Astronauts aboard the International Space Station have sent congratulations to the makers of 'Gravity' for their success at the Oscars.
The three-man crew, Mike Hopkins, Rick Mastracchio and Koichi Wakata said they "know a little bit about gravity" themselves - and the lack of it...
As his colleagues send their congratulations, Mike then takes a bit of a weightless spin in mid-air!
Can you tell the difference between the movie and the real thing?
Watch more Newsround videos