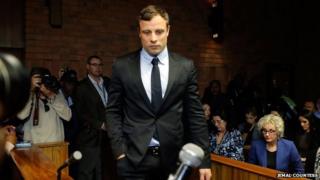 Jemal Countess
World famous Paralympic athlete, Oscar Pistorius, has been in court today in South Africa, facing very serious charges.
Pistorius is accused of the murder of his girlfriend, Reeva Steenkamp, on 14 February 2013.
When he arrived at court there were hundreds of photographers and journalists all trying to take pictures of him.
Pistorius strongly denies the charges and told the packed courtroom he was "not guilty".
The trial is expected to last for several weeks.