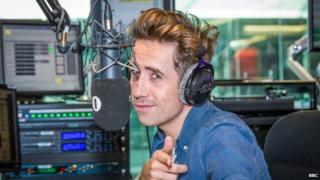 Radio 1 DJ Nick Grimshaw says he's ok after he accidently swallowing a piece of glass during his breakfast show.
Fellow presenter Fearne Cotton had to stand in for the last 45 minutes of Monday's programme after "Grimmy" was taken to hospital.
It's believed the accident was caused by a fragment of glass from a dishwasher, which had found its way into his coffee cup.
But after having an X-ray the star was given the all clear.
Afterwards he tweeted: "Went to hospy, had X-rays, coughed it up, all fine now."