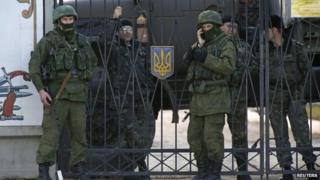 Reuters
Russia has said it will keep troops in Ukraine until things there go back to normal.
The country's Foreign Minister Sergei Lavrov said Russia was defending the human rights of Russian speaking people in the south of Ukraine.
Russian troops appear to be in control of the Crimea region after sending them over the border. That despite western countries, like Britain, American and Germany warning that course of action was against international law.
Warnings
Reuters
In response to Russian troops entering the country Ukraine has ordered all of it's military to get ready as fears grow over the potential for armed clashes.
No shots have been fired but two large Ukrainian military bases are surrounded, with Russian troops standing alongside local Ukrainians who support them.
Britain's Foreign Secretary William Hague is in the Ukraine trying to help stop the situation from getting worse, having described it as the "biggest crisis" to face Europe in the 21st Century.
He's added his voice to those of US President Barack Obama in warning Russia that there will be consequences if it does not withdraw its troops from Crimea.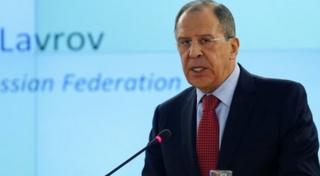 Reuters
Mr Lavrov said on Monday that Russian troops were needed in Ukraine "until the normalisation of the political situation".
Find out more about What's happening in Ukraine here.