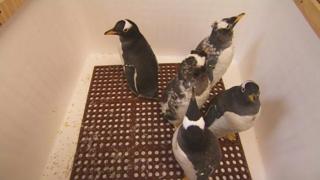 Flying penguins' epic journey
We all know penguins don't fly - unless they're on a plane, that is!
Five Gentoo penguins have been flown all the way from Texas in America to a new home in Hull, England.
These birds were born in captivity and they've come over to join a European breeding programme, which aims to help protect the species.
Their new living area at The Deep Aquarium has three levels and includes a diving pool, beach, nesting area and even an outdoor balcony overlooking the River Humber!
And if you want to find out more of those penguins and live in the Yorkshire and Humberside area then tune in to BBC1 at 7.30pm on March 3rd 2014.
Watch more Newsround videos