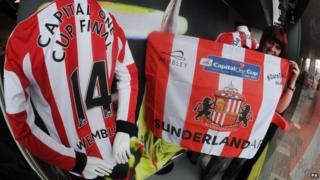 PA
Manchester City and Sunderland are going head-to-head in the League Cup final at Wembley on Sunday.
It's Sunderland's first major chance of a trophy since 1992, when they lost to Liverpool in the FA Cup final.
Sergio Aguero returns to the City squad after a five-match absence with a hamstring problem.
City are the favourites, but Sunderland did beat City in their last two meetings - both Premier League fixtures at the Stadium of Light.
Sunderland manager Gus Poyet said: "It's going to be extremely difficult... We're going to try our best to make the Sunderland fans very proud."