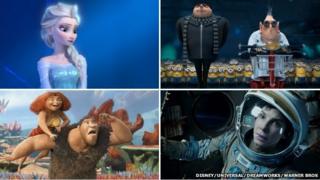 DISNEY/UNIVERSAL/DREAMWORKS/WARNER BROS
The biggest movie awards in the world, the Oscars, take place on Sunday night in Los Angeles in America.
Space adventure Gravity, which won six Baftas, is expected to pull in several golden statues. It has 10 nominations, including best picture.
Disney smash Frozen is taking on Despicable Me 2 and The Croods in the best animated film category.
Watch Radio 1 film critic Rhianna Dhillon's Oscar preview.
Ahead of the Oscars, we're asking: What's your favourite movie from the past 12 months and why?
Thanks for your comments. This chat page is now closed, but you can read some of your comments below.
Your comments
My favourite movie was definitely Frozen. The songs were amazing and the movie was very touching.
Hadiya, Manchester, England
Frozen's songs are the best because they are good to sing and dance to. It is my favourite. The film is brilliant.
Sian, Slough, England
The Lego Movie! I love the song, Everything is Awesome.
Luc, Horsham, England
Frozen because it is from the creators of Tangled. I love all the songs and I love the story so much. I wish I had magical powers. Epic film!
Kat, Lancaster, England
I think that Despicable Me 2 is the best film of the past year because it is so funny. I rate it 10/10!
Harvey, West Yorkshire, England
I think Frozen or The Croods because Frozen has great songs and The Croods is really funny. I can't make my mind up!
Briege, Northern Ireland
Definitely Gravity. It's so epic and has brilliant graphics.
Will, Buckinghamshire, England
I really loved The Croods because it's very funny and my favourite part was when Eep and Guy met for the first time.
Mar, Lancaster, England
I loved The Croods and Despicable Me 2.
Aimee, Southampton, England
My favourite film I have seen this year is The Lego Movie because it was funny and different to the other films I have seen.
Lydia, Southampton, England
Frozen has the coolest songs ever. Also it is very touching and shows how amazing and strong sister power is no matter what. Amazing movie. I rate it 5/5 stars.
Frania, London, England
Frozen because I love the dresses and Elsa's powers to build everything out of ice and snow. I like the songs and all the colours and the horse that she rode in the snow.
Phoebe, West Sussex, England
I saw Sunshine on Leith last year and really enjoyed it. The songs were great!
Freya, Shetland, Scotland
Thor: The Dark World because Loki is really funny and it is an all-round great film.
Archie, Lincoln, England
My favourite movie of 2013-4 was Mr Peabody & Sherman because of its funny ways of a dog adopting a human boy. My second favourite is Frozen.
Rhys, Hampshire, England
Definitely Frozen because the storyline is amazing! The graphics are perfect and the songs are so good and get stuck in your head for weeks. The actors are amazing too and just bring the characters to life. It is much better than the others.
Lauren, Surrey, England
Frozen and Despicable Me 2 were the best but if I had to choose it would be Frozen.
Greg, Middlesbrough, England
The best film I saw last year was One Direction: This is Us because I am a massive fan and I was singing along to all of the songs.
Hayley, Telford, England
Despicable Me 2 because it was funny and I loved it when the minions were silly!
Ben, Cardiff, Wales
Definitely The Croods! Had me nearly falling off my chair with laughter but then at the same time it was sad, mysterious and just brilliant. I love how you can clearly see all the characters' personalities.
Tessa, Surrey, England
I'm favourite film was The Hobbit but Gravity was amazing in 3D. They were both stunning!
Zara, Northwich, England
My best movie was One Direction's movie This is Us. It was really funny and it let us see what One Direction are really like.
Erin, Hamilton, Scotland
Frozen! It's the best movie ever. It is really funny and has fabulous songs and characters. It also gives you a moral - never give up.
Magdalena, Margate, England
Frozen! I really liked the songs and the characters. I also really liked the snowman because he was real funny.
Becky, Isle of Skye, Scotland
My best film has to be Despicable Me 2, the minions just make me laugh to tears! I love absolutely everything about it. It's such a well-made film.
Osha, West Midlands, England
My favourite movie was Despicable Me 2. The minions are so cute and I love the song Happy.
Rhia, London, England
I like Gravity because it is made so well and it feels like you're actually there in space.
Ellie, Clevedon, England
Definitely Catching Fire. So much better than the first, but still isn't as good as the books.
Caitlan, Coleraine, Northern Ireland
My favourite film is Frozen because I really like how Elsa hides her powers from the world.
Aishwarya, Reading, England
Despicable Me 2! Best songs ever! So, so, so, so funny. The minions are so cute as well. Great movie.
Becky, Surrey, England