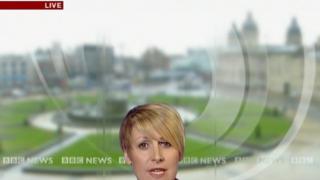 'Sinking' TV reporter explains all
The BBC news reporter who appeared to sink into the floor live on television has explained what went wrong.
The clip of Look North's Caroline Bilton has gone viral, with more than 3 million views on YouTube - so far.
The camera tilted up towards the ceiling as she was talking into it - giving the illusion that she was sinking.
Watch Caroline's behind-the-scenes report where she explains in full what happened.
Watch more Newsround videos