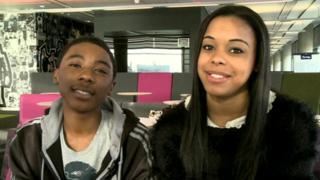 Dumping Ground stars - 'Acting isn't easy'
You might think starring in a top CBBC drama like The Dumping Ground would be all glam and showbiz, but stars Kasey McKellar and Leanne Dunstan have told Newsround that acting isn't easy.
The pair were answering questions from Newsround viewers, ahead of .
Kasey, who plays Bailey, said: "With acting, people think it's easy. It's not really easy. When you have to wake up at 5 o'clock, 4:30... and you finish about 7 o'clock [in the evening] sometimes.
Leanne, who plays Faith, added: "It is quite demanding. You have to really love it and you have to be really, really passionate about it."
Watch more Newsround videos