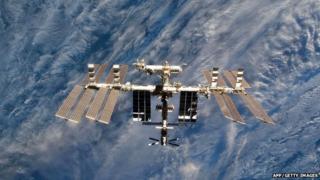 AFP/getty images
Budding space engineers are being invited to take one giant leap for mankind and sign up for top space training.
The first degree-level apprenticeship in the field is being launched by the government. It aims to get more scientists and engineers into the UK space industry, which is seeing major growth.
The programme will be provided by Loughborough College, the National Space Academy and the University of Leicester.
Growing UK space sector
The UK space sector is growing due to more demand for things like satellite TV and radio, mobile phone services, GPS navigation, air traffic management and climate change monitoring.
Anu Ojha from the National Space Centre said: "The space sector is growing rapidly and needs highly skilled technicians in a number of engineering disciplines if it is to sustain that growth."
Skills Minister Matthew Hancock said: "Ahead of National Apprenticeship Week, I would like to encourage young people to think about a career in this stimulating and fast-moving sector."
In January, the Chancellor George Osborne said he wanted the number of space jobs in the UK to triple in the next 20 years.