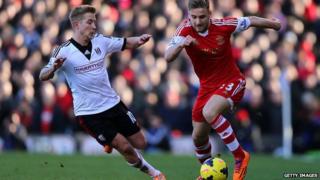 Getty Images
Southampton footie star Luke Shaw has got his first call-up to the England senior squad, and cried when he told his mum the great news.
It was a proud moment for them both as Luke was named in the England 30-man squad to face Denmark next week.
But we want to know what you have done that to make your parents proud? Or perhaps it was a big brother or sister or your teacher who was impressed by what you'd achieved?
Maybe it was something impressive at school or in sport, or something nice you did for a friend that made your family proud.
Your Comments
What made my parents proud was when I did really well in an exam.
Bethany, Scotland
I made my parents really proud when I learned how to ride my horse without someone helping me.
Rose, York
My parents are proud of me when they see me dance.
Sofia, Bury
What makes my parents proud is when I help with my family and do well with my school work.
Jenny, London
I made my parents proud when I got a certificate in assembly.
Jessica, London