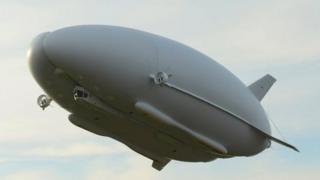 The world's longest aircraft has just been unveiled today in Bedfordshire.
The Hybrid Air Vehicle looks like a giant airship, but the high tech design means it also acts like one big aeroplane wing.
It was originally sold to the US Army but now it's been bought back by the original British developers who are planning their first flight this year.
It's a massive 92m long which is about 20m longer than the biggest airliners that currently exist.
It costs about £60m and the flying machine will eventually be able to carry 50 tonnes at a time, and could potentially fit hundreds of people on board.