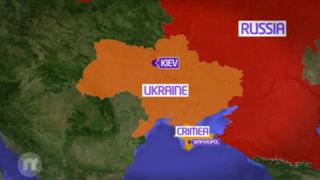 Trouble in Ukraine spreads south
Tensions are again growing in Ukraine as trouble spreads to the south of the country and the former president is reported to be in Russia.
The latest trouble began when a group of armed men took over government buildings in Crimea, which is in the south of Ukraine.
The group then raised Russian flags outside the building.
This is a challenge to the new authorities in Ukraine, because they want the country to move away from Russia's influence.
The areas around the occupied buildings have been sealed off by police.
Crimea is the only Ukrainian region where most of the people that live there are Russian.
More news stories