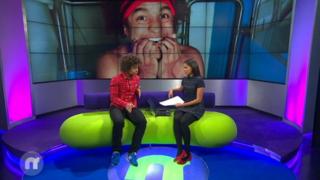 Watch: Radzi on chilly water challenge!
Blue Peter's Radzi Chinyanganya has taken on the chilly waters of Lake Windermere!
He braved tough conditions and a water temperature of just 5.8 degrees during a one mile swim.
It's the first of three challenges taken on by the three Blue Peter presenters for BBC Sport Relief.
Radzi told Leah about his training for the challenge and just how tough it was.
Tune into CBBC tonight at 5.30pm to find out how the rest of the Blue Peter team are gearing up for Sport Relief.
Watch more Newsround videos